Kenya's opposition leader Raila Odinga has made fresh demands that risk rocking the bipartisan talks opened by President William Ruto on Sunday.
The two were rivals in last year's presidential election and have agreed to hold talks on the reconstitution of the electoral commission after the opposition suspended protests.
President Ruto insists the bi-partisan talks should be done through parliament, and has not commented on the opposition's demands for the agenda to also include the soaring cost of living.
On Tuesday Mr Odinga said the rising prices has to be discussed and for President Ruto to expand the talks beyond parliament.
He said a strictly parliamentary process may not address their concerns and proposed broad-based talks akin to what led to the 2008 National Accord – a post-election deal brokered by the then UN chief Koffi Annan.
"We assure our people and Kenyans that our eyes are firmly on the ball, and reiterate that we shall go back to the people at the earliest sign of lack of seriousness by the other side," Mr Odinga said.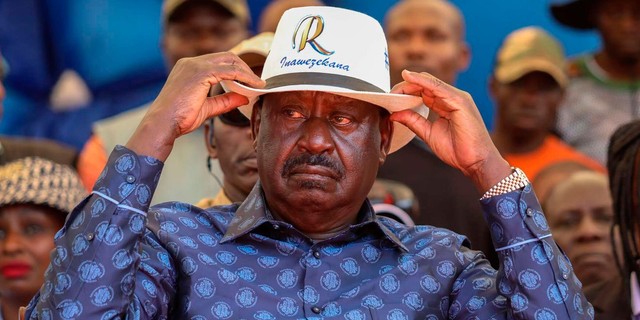 The opposition chief also claimed there were attempts to tamper with the electoral servers, which he demands to be forensically audited.
The ruling United Democratic Alliance (UDA) party has accused Mr Odinga of holding the proposed talks at ransom and dismissed his fresh demands as unreasonable.
Speaking in Rwanda on Tuesday, President Ruto ruled out the possibility of any agreement that would co-opt the opposition into his government.
Mr Odinga had last month launched twice-a-week protests to push for what he termed as electoral justice and action on the cost-of-living crisis