Kenya's opposition Azimio coalition wants a review of the country's 13-year-old constitution to be part of discussions in its proposed dialogue with the government to end protests in the country.
A statement released by opposition leader Raila Odinga, after a meeting with Azimio's parliamentary group, says they will be adding a review of the constitution "to remove the last vestiges of an imperial presidency".
The opposition referred to Kenya's "winner-take-all culture".
In February, Deputy President Rigathi Gachagua was widely criticized for saying the government was like a company with shares, in which some have large stakes and others none at all.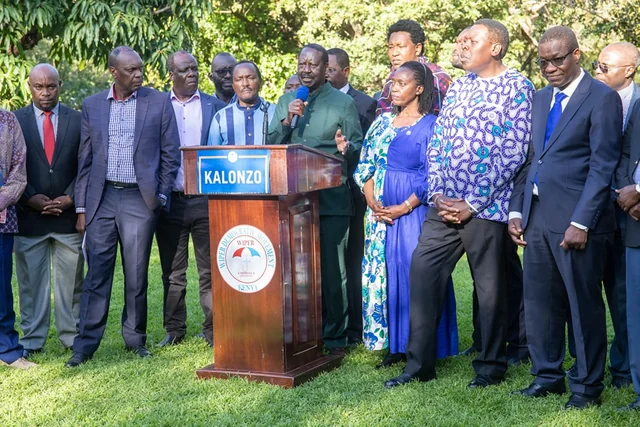 He has since defended himself, saying he was referring to government appointments, which he said must be given to people who support the president's agenda, and not state resources, which he said will be equitably distributed.
Mr. Odinga has been holding bi-weekly protests since 20 March against the cost of living and opposing the appointment of a new electoral commission without consultations.
He has also been questioning the legitimacy of President William Ruto, who was elected last year and had his election validated by the Supreme Court.
At least three people have been killed in the protests, businesses destroyed and private property vandalized especially in the main cities of Nairobi and Kisumu.
Last Sunday, President Ruto asked Mr Odinga to halt the protests and allow a parliamentary dialogue on the formation of a new electoral commission, to which Mr Odinga agreed.
But on Tuesday the opposition leader added a fresh demand for an external dialogue akin to the 2008 National Accord, which was led by former UN Secretary General Koffi Annan after the disputed elections of 2007.
Some government leaders have strongly opposed such a move and accused Mr Odinga of trying to sneak back into government.
In 2007, the accord led to a coalition government with President Mwai Kibaki, in which Mr Odinga was made Prime Minister.
Mr. Odinga insists he does not want a similar arrangement, but an honest conversation about electoral justice with solutions for more honest elections.
He insists he will go back to the streets if the talks don't bear fruit.
The government parliamentary group is yet to offer its counter-proposal on the grounds for the talks, but the president has been clear that his election will not be up for discussion.